Book Offer - The Charlotte Learning Collection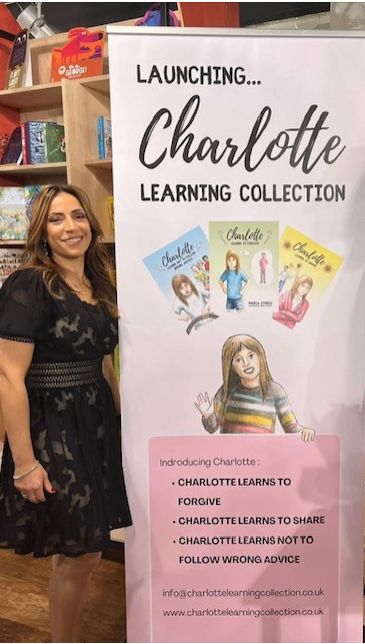 The Charlotte Learning Collection is about helping teach children to understand essential life values.
In this beautiful, heart-warming illustrated story – Charlotte Learns to Forgive – Charlotte decides to take her last candy cane to school, despite being told not to by her mum
David's plan is to take and eat her candy cane!
How will Charlotte deal with this emotion?
What will she tell Mum and how will she deal with the guilt for not listening to her?
Can she ever learn to forgive David for causing her all this upset?
The Author
Maria Symeou, one of Bonneygrove Primary School's parents, lives in Hertfordshire with her two children and four laying hens. She started writing children's stories after realising how much her captive, young audience enjoyed her storytelling.
Inspired by her children and hoping to teach them some important life-values, she began work writing the Charlotte Learning Collection.
When not writing, Maria enjoys entertaining family and friends –
any excuse to eat, drink and laugh!
Support the school and author by buying direct.
The school will receive £2.00 from the sale of each book sold at £7.99.
Parents and carers who wish to purchase a book, should email sales@charlottelearningcollection.co.uk and in the subject write: Bonneygrove Primary School, child's name and class name, and in addition if the parent would like a personal message with the author's signature, they will need to specify this in the email.

Payment made to:
Name: M G Symeou
Sort code: 09-01-26
Account: 30362834
Ref: Child's full name
Please not:
Books will only be distributed once the payment has been received.
MS to prepare the books with the child's name and class on the envelope.
MS will deliver the books to the school office where they will be distributed to the child.
For more information, please visit the website www.charlottelearningcollection.co.uk